I have plenty of jeans. I go through stages on which silhouette I like wearing months at a time. I guess it really depends on the kind of shoes I feel like wearing with it and the weather outside because I have so much that they are all different lengths for different heel heights. I have my trusted skinnies that are great with both flats and pumps. Then there are pairs that are just for going out which are darker and dressier. The ones that you can just throw a dressy top on and go. I also have work jeans which are also dark but are more like a trouser cut and high wasted.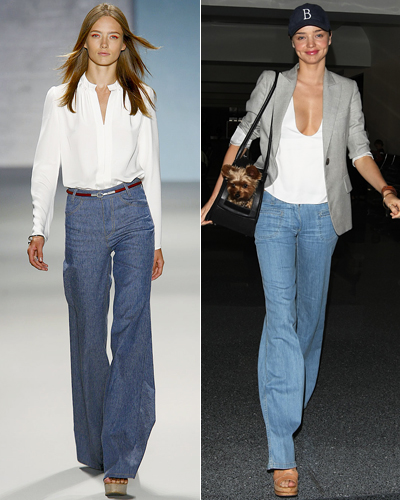 I love this take on them. The one of the left is more work appropriate and Miranda Kerr's take is casual.
I took both looks above and combined it here.
Anthropologie blazer and necklace (Old)
Forever21 yellow button down blouse
Vintage Bracelet
Belt from Savers
Ferragamo Booties.
It's still a little cold and cloudy, raining on and off. I'm off to get my eye exam and hit up some vintage shops. I have $50 left for the month and I'm gonna stretch it as far as I can.