First weekend of the month means flea market weekend. I was a actually really good and didn't end up buying some vintage necklaces that would've cost a pretty penny, good thing I ran out of ammo and needed an ATM but the ATM machines were located all the way by the entrance so I figured if the necklace is still there next month then I'll get it but by that time I'll probably like something else. Besides next weekend we'll be driving home to LA to spend time with my Mommy for Mother's day but we're celebrating it on Sat. and Sunday is Rose Bowl Flea Market which is a big chunk of the day then drive back.
My Mom is pretty hard to shop for so we just take her out to lunch and ask what she wants so there won't be any surprises. My Mother-in-law is a lot easier to shop for because she's still following the trends vs my Mom who doesn't have a particular style and doesn't socialize much so she always says she doesn't need anything.
What are you giving your Mom for her special day?
Two Birds Inspiration Monday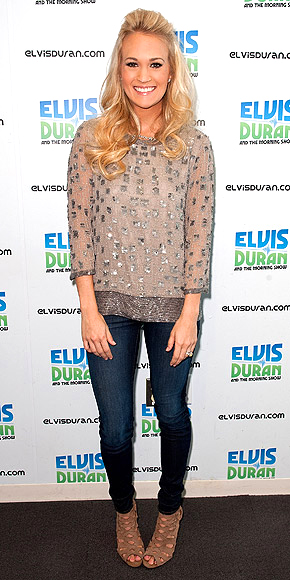 Carrie Underwood
Vintage beaded and sequins top from Rose Bowl Flea Market
The vendor is from Japan and she has plenty of cool stuff but everything else wasn't a perfect fit like this one. She told me that it's actually a stage costume from a Japanese pop star in the 60's. I don't know if that's true or not I just really liked it and the craftmanship of the beading is amazing. It's pretty hefty due to all the beading and sequins. It's hard to find great quality pieces like this without paying top dollars for it and I got it for $25. I had to adjust the colors of the picture above so that you can see the pearls in the middle of the flower. I wanted to take a close up but then my camera battery died.
Always skinny jeans from Gap
Gold bracelet and shoes from Nordstrom Rack